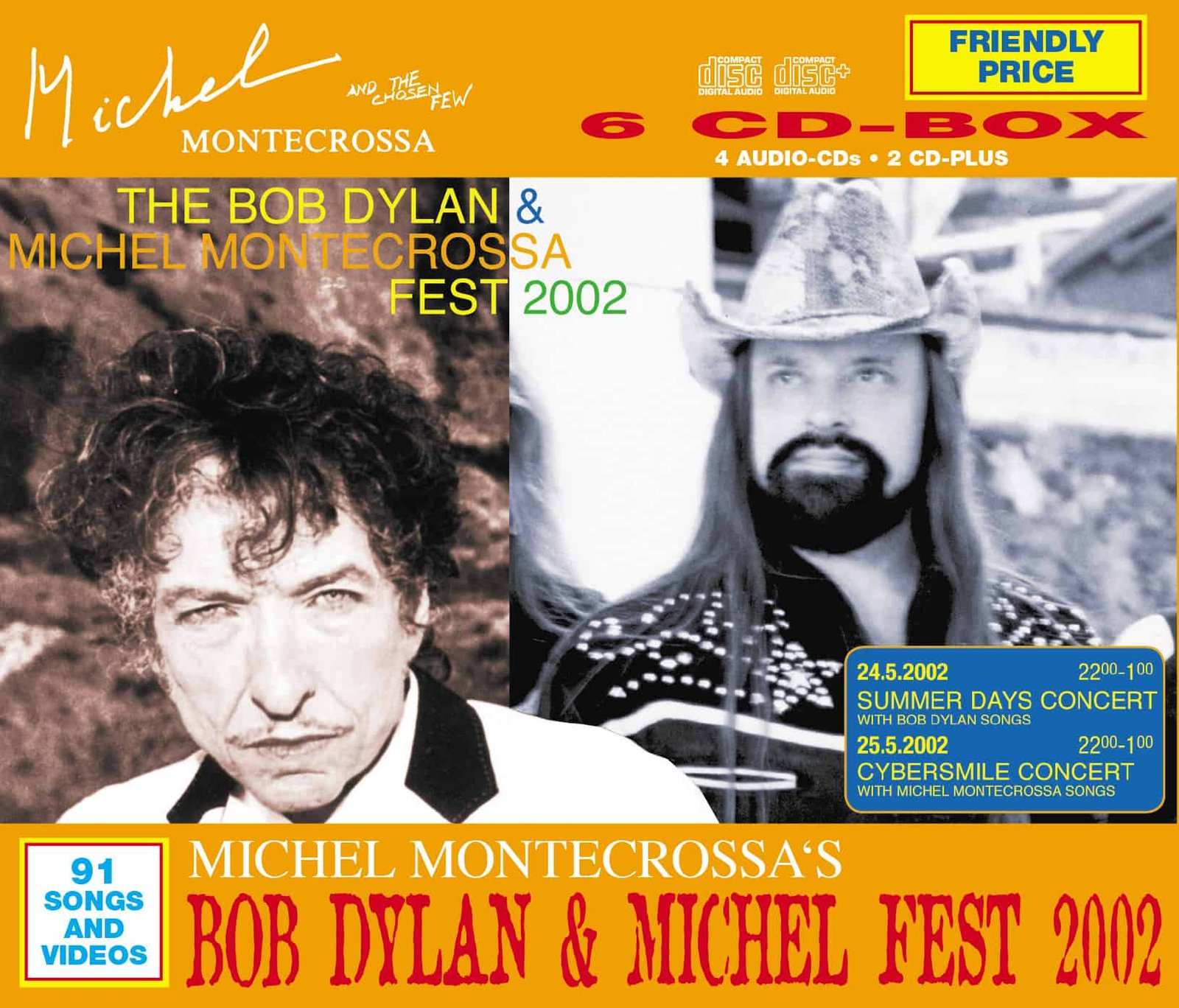 The 'Bob Dylan & Michel Fest 2002' released by Mira Sound Germany presents on 6 CDs (4 Audio-CDs and 2 CD-Plus) 91 songs and videos from Michel Montecrossa's two days Megaconcert of Friday 24th and Saturday 25th May 2002, including the special audio-track 'Waiting For You'.
The 'Bob Dylan & Michel Fest 2002' features 39 original Bob Dylan songs most of them rare and unreleased and 4 songs by Hank Williams, Thompson / May and Big Joe Williams which Bob Dylan has performed in concerts and on various CDs.
The 'Bob Dylan & Michel Fest 2002' is Michel Montecrossa's masterful bridge from Bob Dylan's root-music to Michel's futuristic cyberrock. Taking up Bob Dylan's young road and endzeit-songs like 'Dusty Old Fairgrounds', 'Walls Of Red Wings' and 'Let Me Die In My Footsteps' and charging them with fresh and deeply touching authenticity, Michel Montecrossa effortlessly moves through various periods of Bob Dylan's song world performing gems like 'Farewell Angelina', 'Blind Willie McTell' and 'Lord Protect My Child', rock 'n' rollers like 'If You Gotta Go, Go Now', and 'Seven Days', visionary songs like 'Foot Of Pride', movie-like songs like 'Golden Loom' and 'Catfish', picturesque romantic songs like 'Santa-Fe' and 'Nobody 'cept You', mathematical songs like 'She's Your Lover Now' as well as famous and recent songs like 'All I Really Want To Do', 'Summer Days', 'Floater (Too Much To Ask)', 'Honest With Me' and 'Waiting For You' and some songs by other artists which Bob Dylan sings in his concerts or on CDs like Hank Williams' 'Wait For The Light To Shine' and 'I Can't Get You Off Of My Mind', the Thompson / May song 'Red Cadillac And A Black Moustache' and the traditional 'Sittin' On Top Of The World' which he might have learned from Big Joe Williams.
The video features the song 'Call Letter Blues'.
The special audio-track features Bob Dylan's song 'Waiting For You' which he recorded for the movie 'Divine Secrets Of The Ya-Ya Sisterhood'.
The 'Bob Dylan & Michel Fest 2002' presents 36 original cybersongs of Michel Montecrossa like 'Cybersmile' and 7 songs by his band members Mirakali and Diana Antara as well as three songs of artists related to Bob Dylan and Michel Montecrossa: two songs by Robbie Robertson and his friends Ulali and the theme-song from the movie 'Final Fantasy'.
The extraordinary wide range of Michel Montecrossa's music includes poetic root-songs like 'In The Middle Of An Ocean', 'Find Your Own Way', 'Road Rocker' and 'Various Girls' reality rocksongs like 'We Are The Others' and 'Angel Rocker' psychedelia like 'Freak Out', 'Photonic Wazoo' and 'Splash The President', pure cyberrock like 'Cyberpunk', 'Cybervalhalla', 'Romantic Barbarians' and 'Met You In Paradise', cyberdance like 'Soft Skin', 'Cybersmile', 'Cyberhello', 'Photonic' and 'Orgasm City', cybertechno like 'I'm All Right When She Tries', 'What You Wanna Do, Do It Now', 'Cyberstorm' and 'Joystick' as well as cybertrance like 'The Dream Never Ends' and 'Deepest Love'.
The video presents Michel's groovy rocksong 'Dalì Rocker'.
The 'Bob Dylan & Michel Fest 2002' is with 91 songs and videos a most outstanding and masterful presentation of the genius of two artists of the 21st century.

The Songs, Disc One:
Dusty Old Fairground
He Was A Friend Of Mine
Standing On The Highway
Hard Times In New York Town
Only A Hobo
Man On The Street
Wall Of Red Wing
Let Me Die In My Footsteps
Rambling, Gambling Willie
Wait For The Light To Shine
If You Gotta Go, Go Now
Farewell Angelina
In The Middle Of An Ocean
Blind Willie McTell
Waiting For You
The Songs, Disc Two:
Find Your Own Way
Lord Protect My Child
Summer Days
Golden Loom
Catfish
Tell Me
All I Really Want To Do
Santa-Fe
She's Your Lover Now
We Are The Others
Foot Of Pride
Ye Shall Be Changed
You Changed My Life
Seven Days
Road Rocker
The Songs, Disc Three:
Rocks And Gravel
Chimes Of Freedom
Sittin' At A Table
Spanish Harlem Incident
Smog
I'll Keep It With Me
Floater (Too Much To Ask)
Red Cadillac And A Black Moustache
Wallflower
Sittin' On The Top Of The World
Honest With Me
I Can't Get You Off Of My Mind
Mama, You Been On My Mind
Various Girls
I Want You
Golden Feather
Another Morn'
The Songs, Disc Four:
All Over You
Nobody 'cet You
Baby, I'm In The Mood For You
Call Letter Blues
Everything Is Broken
Cybersmile
Celestial
The Dream Within
Way Of Tomorrow
Mahk Jchi – Heartbeat Drum Song
Soft Skin
Oasis Of Love
Cyberhello
Deep In The Night
Freak Out
Sexy, Young And Sweet
The Songs, Disc Five:
Joystick
Letter Written In The Sand
The Dream Never Ends
You Turn Me On
Feelin' Your Touch
Cyberloud
Happy Sex
Cyberstorm
Rockin' Dream
Cyberpunk
Cybervalhalla
Romantic Barbarians
Met You In Paradise
The Songs, Disc Six:
Photonic Rock
Orgasm City
Photonic
I'm All Right When She Tries
Angel Rocker
Starhorizon
What You Wanna Do, Do It Now
Dalì Rocker
Can't Believe It
Deepest Love
Forever Love