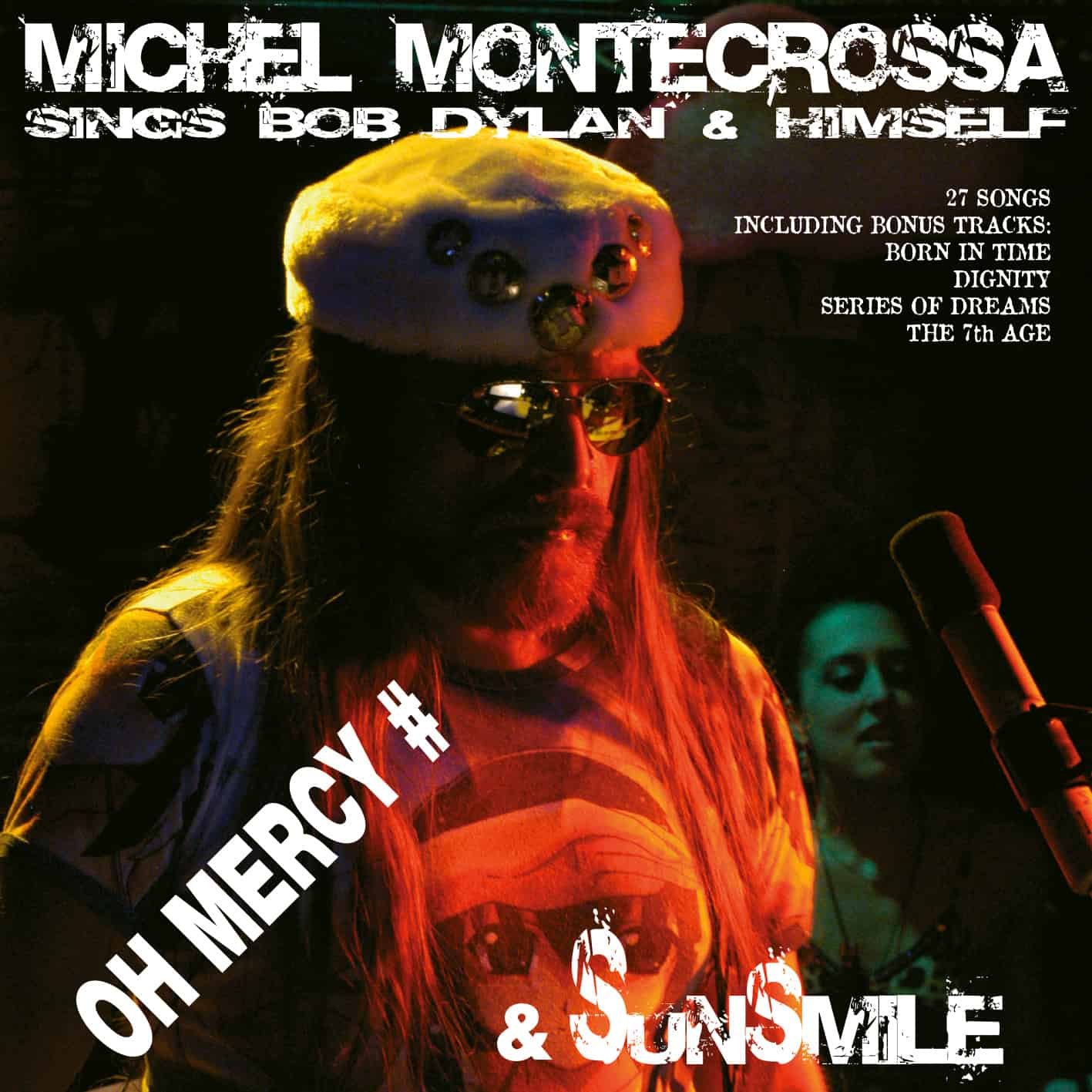 'Oh Mercy # & Sunsmile' released as double Audio-CD by Mira Sound Germany, present Michel Montecrossa's great original 21st century song art and his masterinterpretation of Bob Dylan's 'Oh Mercy' production. Michel Montecrossa gives to all songs his uniquely fresh and revealing glow. In addition to the songs of the Bob Dylan release Michel Montecrossa features as bonus tracks the outtakes 'Born In Time', 'Dignity' and 'Series Of Dreams' as well as his own haunting nine minutes song 'The 7th Age'.
The 27 songtracks not only include Michel Montecrossa's new millennium Sunsmile songseries featuring stunning songs like 'Sunsmile', 'I Picture Myself' and 'Embrace' but also the cyberstyle version of 'Political World' and the touching 'Where Teardrops Fall' and Michel's killer version of 'Everything Is Broken' as well as the rare orchestral newcreation of 'Ring Them Bells' based on Bob Dylan's performances at the 'Great Music Experience in Japan'.
In his 'Chronicles' Bob Dylan writes in the chapter on 'Oh Mercy':
"A song is like a dream, and you try to make it come true. They are like strange countries that you have to enter … We live in a political world. Flags flying into the breeze. Comes out of the blue – move towards you – like a knife cutting through cheese … What good am I if I'm walking on eggs, if I'm wild with excitement and wet between the legs? If I'm right in the thick of it and I don't know why, what good am I? … I started and completed the song 'Diginity' the same day I heard the sad news about Pistol Pete … The Green Beret, the Scorceress, Virgin Mary, the Wrong Man, Big Ben and the Cripple and the Honkey … There's a whole lot of people dreaming tonight about the disease of conceit. I'll hump ya and I'll dump ya and I'll blow your house down. I'll slice into your cake before I leave town. Pick a number – take a seat, with the disease of conceit … What was it you wanted? Can I be of any use? Can I do something for you? Do I have enough juice? Wherever you're off to, one thing you should know. You still got seven hundred miles yet still to go … Broken strands of prairie grass. Broken magnifying glass. I visited the broken orphanage and rode upon the broken bridge. I'm crossin' the river goin' to hoboken. Maybe over there things ain't broken … I usually left the studio at night in a cold frame of mind … We recorded 'Man In The Long Black Coat' and a peculiar change crept over the appearance of things."
'Oh Mercy # & Sunsmile' is an exceptional fusion of song art leading from the past into the future.

The Songs, Disc One:
Political World
Where Teardrops Fall
Everything Is Broken
Ring Them Bells
Man In The Long Black Coat
Most Of The Time
What Good Am I?
Disease Of Conceit
What Was It You Wanted?
Shooting Star
Born In Time
Dignity
Series Of Dreams
The 7th Age
The Songs, Disc Two:
My Sweetest Woman
A Dream In Her Gaze
Daylight
Sunsmile
Planet Kid
A Woman's Soul
Fire On The Water
Stunning
I Picture Myself
Love And Peace
Time Shift
Slow And Easy
Embrace